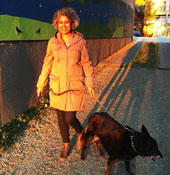 Sadira Rodrigues – Curator/Director
Sadira Rodrigues is an educator, curator, writer and administrator. From social-profit enterprises such as artist-run-centres and public galleries, to museums, grant funding and higher education, she has assembled deep knowledge of the arts and culture sector in Canada and beyond. Her past institutional experience includes Dean of Continuing Studies at Emily Carr University, Public Programs at the Vancouver Art Gallery, and a Regional Facilitator for the Canada Council for the Arts.
Eric Miller – Manager
Eric has played many roles in the arts world since taking to the stage as the Pied Piper in Grade 4. As a theatre artist who learned to write grants, he joined Traveling Jewish Theatre in San Francisco before co-founding The Only Animal Theatre in Vancouver. Since 2011 Eric has been working at the intersection of community, creativity, and positive social change as a director, producer, and arts administrator. He comes to SCAC after working with Community Arts Council of Vancouver, and is very happy to be supporting the vibrant Coast arts scene.
Emily Picard – Design & Communications Assistant
Emily Picard (she/her) is a recent graduate of the University of British Columbia, with a degree in visual arts and music. She is a multimedia artist, who loves to explore many mediums, both 3D and 2D.  Raised on the Sunshine Coast, she is excited to be working in an environment that helps promote and facilitate art within the local community she grew up in.
Ali Casey – The Gathering Place
Ali Casey is an artist and educator, with over 7 years of teaching experience. Ali has experience teaching painting, drawing, ceramics, macrame and weaving to a variety of ages, from toddlers to elders. She is very happy to be working on the Sunshine Coast with her family and community.
Paul Clancy – Photographer
"Retired photographer and pet sitter if I have the time."
Linda May Henri

– Design and Communications Assistant
Linda May (she/her) is a recent graduate from the University of Victoria where she pursued a degree in Visual Arts. She is an emerging artist that mainly paints and draws, usually painting absurd fruit and vegetable scenes. She is very grateful to have had the opportunity to work at the SCAC and connect and learn from the local art community.
Scarlett MacPherson – Curatorial Assistant
Scarlett MacPherson (she/her) is a student at Simon Fraser University where she is completing her degree in Psychology. She hopes to one day contribute to the literature on Northern Canadian communities and their mental health and well-being. Born and raised on the Sunshine Coast, she is grateful and honoured to have this opportunity to work and engage with her local community.
Iris Cameron – Curatorial Assistant
Iris Cameron is a recent graduate of the Writing and Publishing program at Okanagan College, with plans to pursue a Bachelor in Creative Writing at the University of British Columbia in the fall. Although she's especially passionate about literary pursuits, she's always loved art in all forms, and as a lifelong resident of the Sunshine Coast she's thrilled to be able to be a part of supporting the local arts here.