Emma MacLeod – Arts Administrator
Emma MacLeod is an administrator, event producer, and musician living and working on the traditional territories of the Coast Salish peoples. She grew up dividing her time between Vancouver and Gibsons, and she is excited to reconnect with the Coast and serve its thriving artistic community in her new role with the SCAC.
Emma is a recent graduate of the University of British Columbia, where she completed an honours thesis in History and International Relations. During her time at UBC, Emma was the Director of a students-for-students arts and culture startup called Dive Into UBC. With Dive, she produced a wide variety of events and worked to strengthen UBC's artistic community with the goal of bringing artists and art lovers together and driving arts and culture to the forefront of the UBC community.
Emma also moonlights as an electronic musician and audio engineer.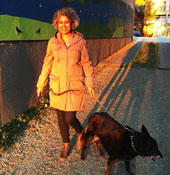 Sadira Rodrigues – Curator/Director
Sadira Rodrigues is an educator, curator, writer and administrator. From social-profit enterprises such as artist-run-centres and public galleries, to museums, grant funding and higher education, she as assembled deep knowledge of the arts and culture sector in Canada and beyond. Her past institutional experience includes Dean of Continuing Studies at Emily Carr University, Public Programs at the Vancouver Art Gallery, and a Regional Facilitator for the Canada Council for the Arts.
Klaudia Rogowski – Bookkeeper
Klaudia came to Canada after a long journey from Poland. She earned a Bachelor's Degree in International Business Management from the University of Salford in Manchester. Arriving in Vancouver, she completed a Master of Administrative Science in Human Resources Administration.
Klaudia knows that you can do anything if you put your mind to it and exercise a strong work ethic. Her administrative background has positioned her well in the bookkeeping world. Klaudia not only performs bookkeeping but understands the story those numbers tell.
She believes that her time spent in multiple cultures has developed her interpersonal skills and her ability to communicate effectively.
Klaudia helps many clients in Vancouver area , she is part of Trout Lake Group team . Now she is also excited to work with the SCAC and contributing to their success .
Linda May Henri – Design Assistant, Young Canada Works
Linda May Henri is a fourth year undergraduate student at the University of Victoria pursuing a major in visual arts and history. Her preferred mediums to work in are drawing and painting. Raised on the Sunshine Coast, she is excited to be working in an environment that helps promote and facilitate art within her local community.
Emily Picard – Gallery Coordinator and Events Assistant, Young Canada Works
Emily is a  student at the University of British Columbia pursuing a major in music and a minor in visual arts. She is an aspiring multimedia artist. Raised on the Sunshine Coast, she is excited to be working in an environment that helps promote and facilitate art within her local community.
Paul Clancy – Photographer
"Retired photographer and pet sitter if I have the time."