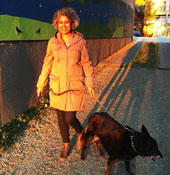 Sadira Rodrigues – Curator/Director
Sadira Rodrigues is an educator, curator, writer and administrator. From social-profit enterprises such as artist-run-centres and public galleries, to museums, grant funding and higher education, she as assembled deep knowledge of the arts and culture sector in Canada and beyond. Over the last fifteen years, she has developed and delivered new programs and courses across undergraduate, graduate and non-credit curriculum. She has been the recipient of numerous grants to support both her curatorial and academic research activities. In addition to institutional roles, she has kept an independent curatorial practice, organised conferences and cultural events, lectured, and participated on numerous society boards. Her past institutional experience includes Dean of Continuing Studies at Emily Carr University, Public Programs at the Vancouver Art Gallery, and a Regional Facilitator for the Canada Council for the Arts. Over the last four years she has split her time across unceded Coast Salish territory, sometimes in Vancouver and other times in Sechelt, and looks forward to spending much more time on the coast in her new role.
Vacant – Arts Administrator
Yanira Cuellar – Bookkeeper
Yanira Cuellar has over 35 years experience in financial management, human resources, strategic planning, and policy development for organizations ranging from non-profits, government and commercial enterprises. Her most interesting and challenging position was that of Finance & Administration Director of Pike Place Market. Her most rewarding position was project manager of "It's My Life" conference dedicated to the issues of aging out of foster care.
Yanira's education includes Bachelor of Science in Business Administration; Masters of Business Administration; Professional Certificate in Event Management; Certificate in Facilitation and Leadership Training; and Certificate in Project Management.
Yanira was born in El Salvador and now calls the Sunshine Coast her home. She is the proud mother of two nice and accomplished young men—age 20 and 17.
Yanira is excited to be back working with the SCAC having previously worked as the Administration & Facility Manager in 2009. She looks forward to being around creative people and contributing her skills to the success of the SCAC.
Linda May Henri – Gallery Coordinator and Events Assistant, Young Canada Works
Linda May Henri is a fourth year undergraduate student at the University of Victoria pursuing a major in visual arts and history. Her preferred mediums to work in are drawing and painting. Raised on the Sunshine Coast, she is excited to be working in an environment that helps promote and facilitate art within her local community.
Paul Clancy – Photographer
"Retired photographer and pet sitter if I have the time."