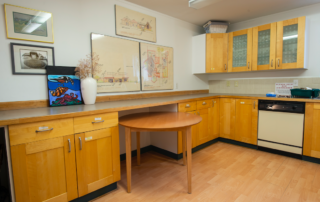 Renting the Arts Centre
The Sunshine Coast Arts Centre is available for rentals to community groups, as well as for public and private events. Our exhibitions, programs and events take priority access to facilities, but if we are not using the space, we welcome you to use our premiere facilities on selected days, evenings and weekends. Whether you are organizing a public or private event, conducting an art workshop, or holding a meeting — our facilities will meet your needs.
The Sunshine Coast Arts Centre
Built in 1979, the Arts Centre has two expansive and open gallery spaces with heritage construction, wood beams and a skylight. The gallery accommodates large functions and events with an artistic flair. All rentals include use of the kitchen. There is also a projector and screen, microphones and speakers available at no additional cost. The Art Studio is also available, suitable for visual art classes, workshops, or practice. The Art Studio has natural light, tables, chairs, sink.
Rental Information
Doris Crowston Gallery
$35/hour (free events)
$50/hour (ticketed events)
Minimum 3-hour rental
Additional fees and insurance may apply, contact us for details
The Art Studio
$15/hour (artist practice)
$ 25/hour (paid workshops or classes)
Minimum 3-hour rental